Australian Business Directory
Australian business directory
Australian Business Directories (or Local citations) can improve your business' profile and exposure in Google's search lists. This is because Citation Vault shows your business on a different platform made particularly for business listings, and it also creates a domain authority because it's a high authority backlink for your business website.
So, what is a backlink? 
A backlink is a hyperlink from one internet site that points to another internet site. Using backlinks correctly helps with your search engine optimization overall performance and rating in Google. More backlinks on your website from different web pages can help get a better organic search ranking on Google. By creating citations for your business, you can benefit from backlinks from their website to your website.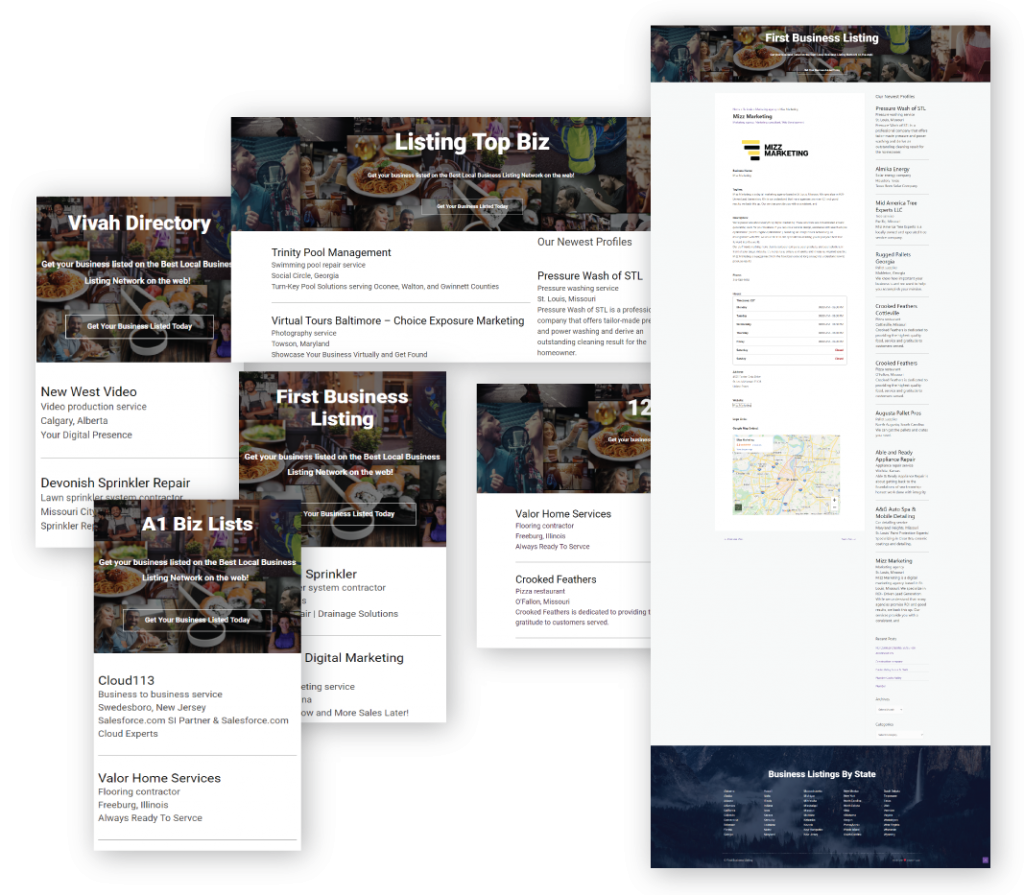 How could an Australian business listing help my company?
Creating local citations for your business on Australian directories offers you the capacity to rank better in Google. As more individuals search for a listing of companies and service providers to reach out to, Google tends to rank directories better in search results. Therefore, listing your business on these platforms offers you more online visibility and an additional chance to connect with new customers.
If you want people to know your business is real, you need to show Google that information about your business is correct. You can do this by using citations on the web. Include the name of your business, its address, and a contact number on these citations.
Do you want to grow your business through citations, but you don't know how or don't have the time? We at Citation Vault can help you with that! We can create citations for you and list them on 300 high-quality sites to improve your Google rankings. Reach out to us today!
WHAT IS THE BEST Australian BUSINESS DIRECTORY?
When it comes to SEO optimization for your business, one primary and practical approach is creating citations in Australian local business directories. It's an important part of the local search engine optimization strategy. With every submission on an Australian Business Directory or local business directory, you boost your chances of getting discovered by potential clients or customers.
Create a strong presence for your business by effectively including your business in Australian business directories and listings. Local citations are a number one rating element for local search engine marketing. These directories have info like your company address, contact info, social community links, business images if any, and more. Consider posting your business details on a local list with an excellent rating. Getting indexed will enhance your online presence, improve traffic, decorate brand recognition and cognizance, and grow sales. Here are some of the high-authority sites you should consider:
HOW DO I LIST MY BUSINESS ON LOCAL DIRECTORIES?
Business owners usually assume that there isn't always a great deal of a process regarding directory listings. While it is genuinely an easy technique, you need to be aware of the number one factors: accuracy and consistency.
Inaccurate and inconsistent directory listings can ruin your local search engine optimization campaign. This is because the information confuses not just your clients but also the search engines. For example, a typo to your contact number or company address can spell hassle in terms of clients reaching your business, and the search engines can downgrade your rank in the SERPs (search engine ranking page).
Before you begin your directory listing campaign, you need to ensure that you choose one system to list your business and keep on with it. For instance, you would want to determine if you may abbreviate your road name (123 Maple Dr.) or spell it out (123 Maple Drive). This may not appear to be a big deal. However, Google acknowledges the spelling differentiations as another citation. Your business desires to be listed below one version as frequently as possible to guarantee consistency.
The main thing is you need to continue to be accurate and consistent along with your NAP data throughout all mediums. This is a good practice for boosting your publicity online with Australian Local Citations and getting the maximum out of search engine optimization advantages.
BUSINESS DIRECTORIES IN AUSTRALIA
Let's take a look at the advantages of online business directories and notice how they could do magic to your company. With an online business directory, you may:
1. Improve your online exposure
When looking for your business on search engines like Google and Bing, you could come upon your business listings on numerous directories in which you by no means submitted for business info. This occurs because several business directories and listing web pages extract business info from other directories and contract listings. Getting indexed on an online business directory means getting listed automatically in a lot more. But, there are numerous times in which the accurate info doesn't get up to date on the listing websites and net directories. To prevent these situations, it is vital to frequently check your listings and enhance your online exposure as you may.
2. Boost your local visibility.
Many outstanding business directories provide superior filter options that allow your clients to connect to your area. In addition, local business directories are beneficial for focusing on clients for your local community.
3. Get found easily
By ensuring that your business info is correct on various online directories and listing sites, you could boost your chances of getting found when clients look for products or services that you have, even though they do not dig your company name directly. This becomes handy as many clients do not look for a business name while searching out a product or service.
4. Create your brand awareness
When clients search in a web business directory, a listing of matching results, every photograph, and business info is indexed. To examine further about the business, you may click on it. In this case, even though the purchaser does not click on your business name, they see your business nevertheless. Thus, each time a client goes to your business, it will increase your brand's presence in the client's thoughts and boost your probability of getting business from them.
5. Improve your SEO
The internet is a big place. Search engines rank pages on it so that people can find things they want. SEO is the way to get your page ranked higher, so people find it more easily and buy what you sell. Top Australian business directories and listing are a top-notch platform to boost your already present net content material and give it more validation to obtain the trust of search engines like Bing and Google.
6. Rank better on Google
Search engine optimization is a great exercise to set up your business on the main web page of Google. However, it could take up to 6 months to begin seeing the results. On the other hand, a web business directory is considered a precious and trusted source of records by Google. It's the main web page of results that usually carries results for online business directories. Suppose you get indexed on a web business directory website. In that case, you have an opportunity to benefitting from their well-established search engine optimization and performing on the main web page of Google.
Bottom Line
While getting your business indexed on online business directories is a tremendous advantage, incomplete and wrong business info can have an effect on your online presence and frustrate clients searching for your company. If unable to reach out to you, clients will shift far from your brand and can end up heading to your competitor's perfectly up-to-date listing and finally doing business with those clients. Online popularity management solutions like us at Citation Vault are geared up with our skills, experience, and platforms that help you create citations (name, address, and phone number) throughout various listing sites like Yahoo, Facebook, Google, and Bing, one go.
WHAT IS A LOCAL CITATION?
A local citation, sometimes called a business citation, mentions your business's contact details. They can show up all over the net, like on directory websites, maps, apps, social media platforms, and everywhere else where customers might search for info about local companies. Local citations help customers in discovering local businesses and playing a crucial role in SEO, as they construct credibility with SERPs through off-page enhancement. Search engine crawlers examine online citations to validate the credibility of local companies so they can rank their sites for essential location-based keywords in their favor.
Australian business directories offer your business better authority, it is the way you rank better in local Google results. Local citation construction performs a crucial role in every comprehensive SEO method for local companies. But to attain excellent results, you need to recognize how to build citations that might be appealing to each potential client and the search engines and understand the most significant websites to submit them to and how to display their activity effectively and enforce changes. Now that you know the fundamentals of SEO citation construction, it is time to strive and degree the results. We at Citation Vault believe that this procedure can seem like plenty of setup and upkeep, but that's the reason we are right here to assist you. We are devoted to SEO and developing our partners' business. We want to help you construct your local citations and monitor your progress from this work.
Local Citations in Australia
It's quite easy to get cited, mainly on directory websites. Many don't have fees and could allow the local business to answer some questions, confirm they got permission, and add a logo. As we have mentioned earlier, this does not suggest the business needs to be listed on each web page possible. The procedure of boosting a business listing on those sites calls for time, effort, and understanding. For example, guaranteeing the business citation is 100% accurate is crucial. And as soon as a company is indexed on a directory, making sure the listing stays correct and continues a consistent NAP may be tedious. Often, businesses are indexed on directories without even knowing it. Having similar citations confuses clients, influences belief among search engines, including Google, and hurts the company more than it aids. The lousy information is real trouble for local businesses.
Here's more about how erroneous information happens and a way to repair it. Several companies provide local listing management services, as we do at Citation Vault. When deciding on a local listing service to work with, it is vital to assess their company practices closely, the strategies they utilize to present listings, and the locations to where they submit. Here at Citation Vault, we have the experience and expertise to handle your SEO campaigns effectively. Contact us today!
Does adding my business to directories help with local seo?
Does adding my business to directories help with local seo?
Two of the most crucial elements that Google uses in figuring out business listings are citations and hyperlinks. Google sees online popularity as crucial for search results, in which references from high-authority and credible sources are strong signs of endorsements. Citations and links constitute elements of local SEO that may be very beneficial in enhancing your search rankings, mainly if the references are extensive on main web pages.
The three primary pillars a search engine is searching out in citations are
The quality of the websites from which they come
The quantity your company has accrued
The accuracy of the information on the sites
Google wants to see good sites returning to your page, and it needs to understand that it occurs often.
If you forget about your local presence online and you fail to maintain its accuracy, there could be negative consequences. The things you need to watch out for are:
Inaccuracies on citations: Every citation has to have identical, accurate data.
A small number of citations: Google desires to see an increasing number of those, so it is in your great favor to guarantee you are represented on as plenty of websites as possible.
Duplicate Listings: Make sure you do not appear a couple of times on any sites like Google Maps Or Yelp!.
Handling your listings will hold this from going on or let you remove the extras. Citations and links constitute small commercials through local SEO that comprise your company throughout the web. The more those references show up online, the more authority and credibility your page establish with SERPs, leading to more organic search results. But more of those on-web means more possibility for inaccuracy a mistake to happen. That's why it is vital to be monitored regularly.
Your site could be hard to beat if you balance Australian business directories & local listings with numerous links, which might be accurate. If your business rivals haven't performed a similar thing, your web page is poised to appear more in the search rankings. We at Citation Vault can make sure that your listings and citations are unique, accurate, and it will be on 300 high-quality sites that will definitely improve your rankings. Contact us today!
What Our
Clients

Are Saying
Dennis S
Local Citations
Fantastic software. Very simple to use and extremely effective in providing citations for my customer. Thanks Andy for offering this to the business world. It certainly needs it.
Peach Creek Marketing
Citation Listings
Love it! We have been using Citation Vault for a short time and have seen big improvements with this service. We will continue to use it for all of our clients citation listings. Thanks Andy for your service.
Frankie B
Great Service
Great service and first class follow up and support. Any questions are always responded to quickly.
Anne S
Citation Vault
I used Citation Vault on my GMB and had it go into the map-pack in about 3 weeks. This is a great product, and so easy to use.
Royce W
Excellent Citations
Excellent citations. Highly recommend the service for anyone looking to add Authority to their online presence.
Leira B
Local SEO
I had spent a lot of money and tried multiple services including managed service from TheHOTH to do my local SEO with no luck. I'm so happy to I found Citation Vault. The setup is so simple and fast and very satisfied with the results. I highly recommend this service if you truly want to see results!
Michael
Excellent Citations
We are very encouraged by our increased internet leads since we partnered with Citation Vault to enhance our internet presence. Citation Vault offers a product that is a great value for results we are experiencing.
John
Local Citations
We have used Citation Vault for our Local Citations for several months now. It's a GREAT service and really helps all of our customers rank higher in local search. Thanks Citation Vault.
Per Location
Unlimited Locations
Single Location Plan Pricing Is Per Location. At 6 Locations becomes better to have the Unlimited Agency Plan
2 Months Free!
Annual Price